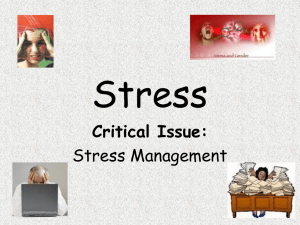 Stress Management
... • Distancing/distraction – e.g just not thinking about it • Focusing on and venting emotions e.g crying, anger, praying • Wishful thinking – dwelling on what might have been if this hadn't happened ...
Music as a coping strategy
Music as a coping strategy involves the use of music (either through listening or playing music) in order to reduce many of the psychological and physical manifestations of stress, as well as stress itself. The use of music to cope with stress is an example of an emotion-focused, adaptive coping strategy in that it is typically geared towards the reduction or elimination of perceived feelings that arise in response to stress, rather than the stressor itself. In essence, advocates of this therapy claim that the use of music helps to lower perceived stress levels in patients, as well as lower more biologically measurable quantities such as the levels of epinephrine and cortisol. Additionally, music therapy programs have been repeatedly demonstrated to reduce depression and anxiety symptoms in the long term.