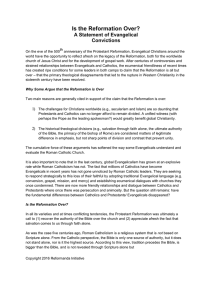 A Statement of Evangelical Convictions
... dogmas (i.e., binding beliefs) with no biblical support whatsoever. They are the 1854 dogma of Mary's immaculate conception, the 1870 dogma of papal infallibility, and the 1950 dogma of Mary's bodily assumption. These dogmas do not represent biblical teaching, and in fact clearly contradict it. With ...
Evangelicalism
Evangelicalism, Evangelical Christianity, or Evangelical Protestantism is a worldwide, transdenominational movement within Protestant Christianity, maintaining that the essence of the gospel consists in the doctrine of salvation by grace through faith in Jesus Christ's atonement.Evangelicals are Christians who believe in the centrality of the conversion or ""born again"" experience in receiving salvation, believe in the authority of the Bible as God's revelation to humanity and have a strong commitment to evangelism or sharing the Christian message.It gained great momentum in the 18th and 19th centuries with the emergence of Methodism and the Great Awakenings in Britain and North America. The origins of Evangelicalism are usually traced back to the English Methodist movement, Nicolaus Zinzendorf, the Moravian Church, Lutheran pietism, Presbyterianism and Puritanism. Among leaders and major figures of the Evangelical Protestant movement were John Wesley, George Whitefield, Jonathan Edwards, Billy Graham, Harold John Ockenga, John Stott and Martyn Lloyd-Jones.There are an estimated 285,480,000 Evangelicals, corresponding to 13.1% of the Christian population and 4.1% of the total world population. The Americas, Africa and Asia are home to the majority of Evangelicals. The United States has the largest concentration of Evangelicals. Evangelicalism is gaining popularity both in and outside the English-speaking world, especially in Latin America and the developing world.