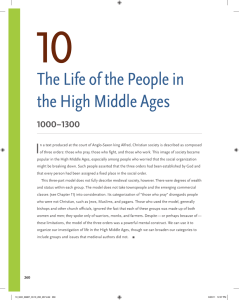 The Life of the People in the High Middle Ages
... In the ancient world, slaves had been responsible for grinding the grain for bread; as slavery was replaced by serfdom, grinding became a woman's task. When water- and winddriven mills were introduced into an area, women were freed from the task of grinding grain and could turn to other tasks, such ...
Homosexuality in medieval Europe
In Medieval Europe, attitudes toward homosexuality varied by era and region. Generally, by at least the twelfth century, homosexuality was considered sodomy and was punishable by death. Before the Medieval period early Romans tolerated alternative sexual practices, such as masturbation in males and females and homosexuality. Homosexuality was generally more accepted for males than for females; male elites were able to recruit slaves or hire household boys for their sexual pleasures, while males saw lesbianism as a threat to their manhood or sexual-esteem. Despite persecution, records of homosexual relationships during the Medieval period do exist. This persecution reached its height during the Medieval Inquisitions, when the sects of Cathars and Waldensians were accused of fornication and sodomy, alongside accusations of satanism. In 1307, accusations of sodomy and homosexuality were major charges leveled during the Trial of the Knights Templar.