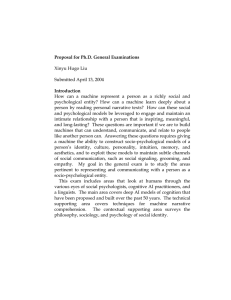 Proposal for Ph.D. General Exams
... This technical area covers work on machine narrative comprehension, also known as story understanding, embedded within the broader field of computational linguistics. As the literature on machine narrative comprehension is quite extensive, I give special treatment to models and techniques of compreh ...
The Legend of Zelda: Skyward Sword
The Legend of Zelda: Skyward Sword (Japanese: ゼルダの伝説 スカイウォードソード, Hepburn: Zeruda no Densetsu: Sukaiwōdo Sōdo) is an action-adventure game for the Wii video game console and the sixteenth entry in the Legend of Zelda series. Developed by Nintendo Entertainment Analysis & Development and published by Nintendo, it was released in all regions in November 2011. The game makes use of the Wii MotionPlus peripheral for sword fighting, with a revised Wii Remote pointing system used for targeting. A limited-edition bundle featuring a golden Wii Remote Plus was sold coinciding with the game's launch; the first run of both the standard game and the limited-edition bundle included a CD containing orchestrated tracks of iconic music from the franchise in celebration of its 25th anniversary.The game's storyline is the earliest in the Zelda continuity, preceding The Legend of Zelda: The Minish Cap. Skyward Sword follows an incarnation of the series' chief protagonist, Link, who was raised in a society above the clouds known as Skyloft. After his closest childhood friend, Zelda, is swept into the land below the clouds by demonic forces, Link does whatever it takes to save her, traveling between Skyloft and the surface below while battling the dark forces of the self-proclaimed ""Demon Lord"", Ghirahim.Upon release, the game was met with critical acclaim, receiving perfect scores from at least 30 publications, including Edge, Eurogamer, Famitsu, Game Informer, GameCentral, IGN, Metro, and Wired. Much of the praise was directed at the game's intuitive motion-based swordplay and the changes it brought to the Zelda franchise. The game was a major commercial success as well, having sold over 3.42 million units worldwide as of December 2011, just one month after its initial release.