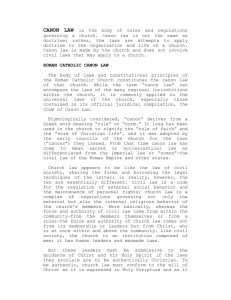 Cannon Law
... commentaries on Trent's decrees. Official interpretations only were to be allowed, and a committee of cardinals was given the task. By the end of the 17th century, however, this ruling had been allowed to lapse; from that time to the present, hundreds of commentaries have enriched the literature of ...
Dispensation (canon law)
In the canon law of the Roman Catholic Church, a dispensation is the exemption from the immediate obligation of law in certain cases. Its object is to modify the hardship often arising from the rigorous application of general laws to particular cases, and its essence is to preserve the law by suspending its operation in such cases.