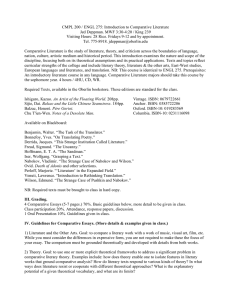 CMPL 200 / ENGL 275: Introduction to Comparative Literature Jed
... wish to write creative papers must submit a detailed proposal and have it approved. V. Other requirements. Please note that to participate in this class, you must understand and adhere to Oberlin's Honor Code: http://www.oberlin.edu/students/links-life/rules-regs05/06honor_code.pdf. Note also that a ...
First day of school
The first day of school is the first day of an academic year. The timing varies between different areas around the world because of the differences in weather, climate, season, and culture. A common pattern in North America and Europe is for school to begin in late August or early September, while in the southern hemisphere late January or early February is common. For countries in South and Southeast Asia, with a climate that is extremely hot in March–May, school begins in late May-early June, with a few weeks break in November, resuming and continuing until early March.