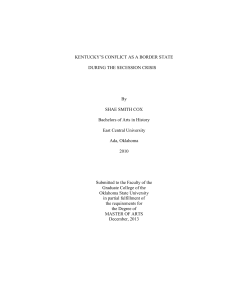 KENTUCKY`S CONFLICT AS A BORDER STATE DURING THE
... Unionists viewed the Union as the appropriate choice for protecting their property, including their slaves. Slavery in Kentucky revolved around small farms with few slaves rather than the predominant plantation culture of the cotton South. Kentucky had a large population consisting of small farmers, ...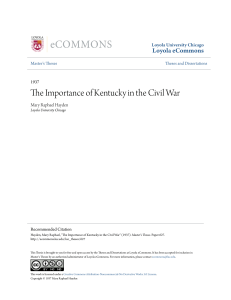 The Importance of Kentucky in the Civil War
... as pro-slavery as the Democrats but. traditionally nationalistic, would not join their old rivals not even under an abolition club; they sought new alignment in the garb of the Constitutional Union party. It has been declared by many that the Kentuckians of 1860 and 1861 were the most peaceable and ...
Louisville, Kentucky, in the American Civil War
Louisville in the American Civil War was a major stronghold of Union forces, which kept Kentucky firmly in the Union. It was the center of planning, supplies, recruiting and transportation for numerous campaigns, especially in the Western Theater. By the end of the war, Louisville had not been attacked once, although skirmishes and battles, including the battles of Perryville and Corydon, took place nearby.