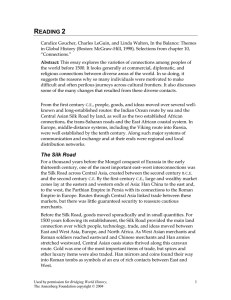 reading 2 - Annenberg Learner
... The maritime routes of the Indian Ocean were established about the same time as the overland Silk Road and were its primary competitor in east–west world trade. They were less subject to breakdowns of security and political disruptions than the overland routes were and consistently carried larger qu ...
Blockade of Africa
The Blockade of Africa began in 1807 when Britain outlawed the Atlantic slave trade, making it illegal for British ships to transport slaves. The Royal Navy immediately established a presence off Africa to enforce the ban, called the West Africa Squadron. Although the ban initially applied only to British ships, Britain negotiated treaties with other countries to give the Royal Navy the right to intercept and search their ships for slaves. A notable exception was the United States, which refused such permission. An 1807 Act of Congress technically abolished the intercontinental slave trade in the United States but the ban was not widely enforced and many of the slave ships which escaped the blockade were destined for the southern United States. Some effort by the United States Navy was made to prevent the slave trade. This mostly consisted of patrols of the shores of the Americas and in the mid-Atlantic, the latter being largely unsuccessful due to the difficulty of intercepting ships in mid-ocean. As part of the Webster–Ashburton Treaty of 1842 it was agreed that both countries would work together on the abolition of the slave trade, which was deemed piracy, and to continue the blockade of Africa.