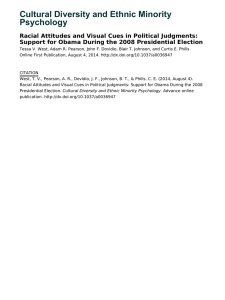 Cultural Diversity and Ethnic Minority Psychology
... Empirical evidence implicates the role of race in Whites' judgments of political candidates in the U.S. (see Hutchings & Valentino, 2004, for a review), especially during periods when race is a salient political issue (Kinder & Drake, 2009). Consequently, there has been considerable interest in the ...
Bradley effect
The Bradley effect (less commonly the Wilder effect) is a theory concerning observed discrepancies between voter opinion polls and election outcomes in some United States government elections where a white candidate and a non-white candidate run against each other. The theory proposes that some voters who intend to vote for the white candidate would nonetheless tell pollsters that they are undecided or likely to vote for the non-white candidate. It was named after Los Angeles Mayor Tom Bradley, an African-American who lost the 1982 California governor's race despite being ahead in voter polls going into the elections.The Bradley effect posits that the inaccurate polls were skewed by the phenomenon of social desirability bias. Specifically, some white voters give inaccurate polling responses for fear that, by stating their true preference, they will open themselves to criticism of racial motivation. Members of the public may feel under pressure to provide an answer that is deemed to be more publicly acceptable, or 'politically correct'. The reluctance to give accurate polling answers has sometimes extended to post-election exit polls as well. The race of the pollster conducting the interview may factor into voters' answers.Some analysts have dismissed the theory of the Bradley effect, or argued that it may have existed in past elections, but not in more recent ones, such as when Barack Obama was elected and reelected President of the United States in 2008 and 2012 respectively. Others believe that it is a persistent phenomenon. Similar effects have been posited in other contexts, for example, the Shy Tory Factor and spiral of silence.