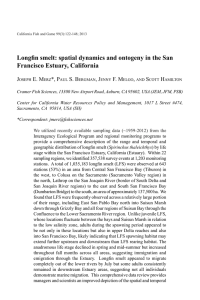 Longfin smelt: spatial dynamics and ontogeny in the San Francisco
... the north, Lathrop on the San Joaquin River (border of South Delta and San Joaquin River regions) to the east and South San Francisco Bay (Dumbarton Bridge) to the south, an area of approximately 137,500 ha. We found that LFS were frequently observed across a relatively large portion of their range, ...
USS Albatross (1882)
The second USS Albatross, often seen as USFC Albatross in scientific literature citations, was an iron-hulled, twin-screw steamer in the United States Navy and reputedly the first research vessel ever built especially for marine research.Albatross was laid down at Wilmington, Delaware, by Pusey and Jones in March 1882; launched on 19 August 1882, and commissioned on 11 November 1882, with Lt. Zera L. Tanner in command. Tanner, who had superintended the ship's design and construction, would command Albatross, a Navy-manned vessel assigned to the United States Fish Commission, a civilian government agency, for nearly 12 years.