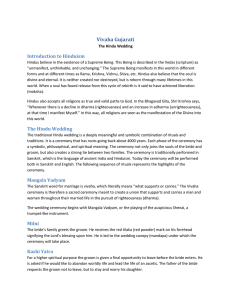 The traditional Hindu wedding is a deeply
... The groom gives the bride a mangala sutra, a necklace made of gold and onyx. This necklace also identifies her as a married woman. The mangala sutra is the equivalent of the wedding ring, which may also be exchanged at this time. ...
Karva Chauth
Karva Chauth (Hindi: करवा चौथ) is a one-day festival celebrated by Hindu women in North India in which married women fast from sunrise to moonrise for the safety and longevity of their husbands. The fast is traditionally observed in the states of Rajasthan, parts of Uttar Pradesh, Himachal Pradesh, Haryana, and Punjab. The festival falls on the fourth day after the full moon, in the Hindu lunisolar calendar month of Kartik. Sometimes, unmarried women observe the fast for their fiancés or desired husbands.A similar festival known as Chhath is observed in Chhattisgarh, Madhya Pradesh, Jharkhand and western Bihar.