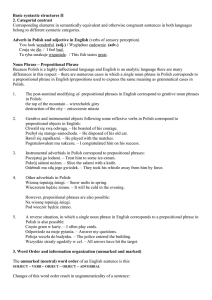 Basic syntactic structures II 2. Categorial contrast Corresponding
... in contrastive contexts if the subject is the focus A. Was John born in Warsaw? B. No, TOM was born in Warsaw A. Słyszałem, że malujesz łazienkę na niebiesko. B. Nie, KUCHNIĘ maluję na niebiesko. in cases of stylistic making when any of the elements of a simple sentence can be fronted (the fronted w ...
Józef Łobodowski
Józef Stanisław Łobodowski was a Polish poet and political thinker.Łobodowski was born 19 March 1909 at the Purwiszki country estate, Sejny County in the Suwałki Land (Pol., Suwalszczyzna), Polish lands of the Russian Partition (now within the territory of Lithuania) and died 18 April 1988 in Madrid.His poetic works are broadly divided into two distinct phases: the earlier one, until about 1934, in which he was sometimes identified as ""the last of the Skamandrites"", and the second phase beginning about 1935, marked by the pessimistic and tragic colouring associated with the newly nascent current in Polish poetry known as katastrofizm (catastrophism). The evolution of his political thought, from the radical left to radical anticommunism, broadly paralleled the trajectory of his poetic oeuvre.To the contemporary reading public Łobodowski was also known as the founder and editor of several avant-garde literary periodicals, of a newspaper, translator, novelist, prose writer in the Polish and Spanish languages, radio personality, and preeminently a prolific opinion writer with sharply defined political views active before, during and after the Second World War in the Polish press (since 1940 only in the émigré press). He was appreciated by two nations for his personal admiration for Ukrainian culture and its spiritual values: Łobodowski described himself as an Ukrainophile and devoted three of his books to Ukrainian themes, including two collections of poetry (Pieśń o Ukrainie and Złota hramota). He spoke out in defence of ethnic minorities persecuted in Poland before and after the Second World War, condemning for example the forced resettlement of the Lemko community in the so-called Operation Vistula mounted by the communist régime in 1947, or the destruction of churches built in the Eastern Orthodox architectural style out of favour in the Western-oriented Poland of the Interbellum. He denounced in print the anti-Jewish sentiment prevalent in some Polish literary circles before the War, defending for example the Polish poet Franciszka Arnsztajnowa against antisemitic attacks. An inveterate and caustic critic of totalitarianism in all its forms, he was blacklisted by the communist censorship of the post-War Poland and spent most of his life in exile in Spain.