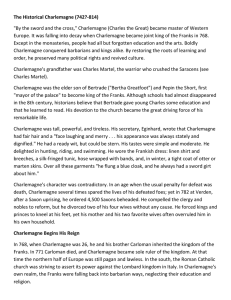 honors reading on Charlemagne
... Charlemagne Begins His Reign In 768, when Charlemagne was 26, he and his brother Carloman inherited the kingdom of the Franks. In 771 Carloman died, and Charlemagne became sole ruler of the kingdom. At that time the northern half of Europe was still pagan and lawless. In the south, the Roman Catholi ...
Medieval Corsica
The history of Corsica in the medieval period begins with the collapse of the Western Roman Empire and the invasions of various Germanic peoples in the fifth century AD, and ends with the complete subjection of the island to the authority of the Bank of San Giorgio in 1511.