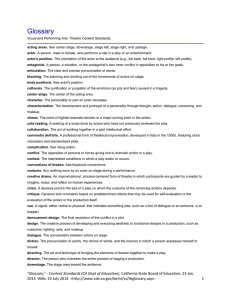 VAPA Theatre Content Standards- Glossary
... pacing. The tempo of an entire theatrical performance. pageant. Any elaborate street presentation or a series of tableaux across a stage. pantomime. Acting without words through facial expression, gesture, and movement. pitch. The highness or lowness of the voice. play. The stage representation of a ...
Love, Loss, and What I Wore
Love, Loss, and What I Wore is a play written by Nora and Delia Ephron based on the 1995 book of the same name by Ilene Beckerman. It is organized as a series of monologues and uses a rotating cast of five principal women. The subject matter of the monologues includes women's relationships and wardrobes and at times the interaction of the two, using the female wardrobe as a time capsule of a woman's life.The show was initially presented as a part of the 2008 summer series at Guild Hall in East Hampton, New York, and then as a benefit series at the DR2 Theatre in New York in early 2009. Later the same year, the show was produced Off-Broadway as an ongoing commercial theatrical production at the Westside Theatre in New York, where it continues to run as the second-longest running show in the theatre's history. The production and its cast received positive critical attention. The production won the 2010 Drama Desk Award for Unique Theatrical Experience as well as the 2010 Broadway.com Audience Award for Favorite New Off-Broadway Play.The show has been produced on six continents and more than eight countries. It began a national tour in the United States in September 2011 in Chicago. It is making an encore performance in Paris in January 2012.