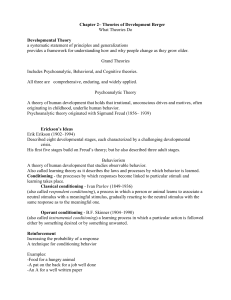 Psychoanalytic Theory
... Social Learning Theory- Albert Bandura (b. 1925) An extension of behaviorism that emphasizes the influence that other people have over a person's behavior. Modeling- people learn by observing other people and then copying them. Self-efficacy- how effective people think they are when it comes to cha ...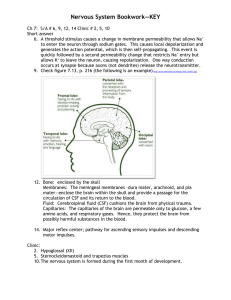 Nervous System Bookwork—KEY
... 14. As one ages, the lens loses its elasticity, causing it to focus less acutely for close vision. Hyperopia. 21. Sensorineural deafness arises from damage to neural structures (vestibulocochlear nerve or auditory cortex cells) due to stroke or other trauma. Conductive deafness arises from any inter ...
Theories of humor
There are many theories of humor which attempt to explain what humor is, what social functions it serves, and what would be considered humorous. Among the prevailing types of theories that attempt to account for the existence of humor, there are psychological theories, the vast majority of which consider humor to be very healthy behavior; there are spiritual theories, which may—for instance—consider humor to be a gift from ""God""; and there are also theories that consider humor to be an inexplicable mystery, very much like a mystical experience. Although various classical theories of humor and laughter may be found, in contemporary academic literature, three theories of humor appear repeatedly: relief theory, superiority theory, and incongruity theory. Among current humor researchers, there is no consensus about which of these three theories of humor is most viable. Proponents of each one originally claimed their theory to be capable of explaining all cases of humor; However, they now acknowledge that although each theory generally covers its own area of focus, many instances of humor can be explained by more than one theory. Incongruity and superiority theories, for instance, seem to describe complementary mechanisms which together create humor.