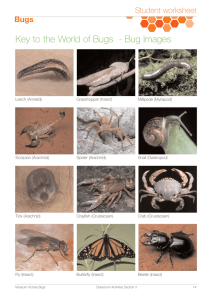 Bug Images - Museums Victoria
... even existed. In fact, they are the only animals that developed wings from scratch – flying birds, pterosaurs and mammals (bats) all modified their front limbs into wings. Insect wings are made of the same material as their exoskeletons. They are so thin that you can see through them and are support ...
Beetle
Beetles are a group of insects that form the order Coleoptera /koʊliːˈɒptərə/. The word ""coleoptera"" is from the Greek κολεός, koleos, meaning ""sheath""; and πτερόν, pteron, meaning ""wing"", thus ""sheathed wing"", because most beetles have two pairs of wings, the front pair, the ""elytra"", being hardened and thickened into a shell-like protection for the rear pair and the beetle's abdomen.