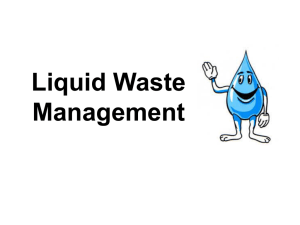 Liquid Waste Management Wastewater
... The sewage then goes into a final settling tank, and the sludge is removed. 2) Trickling filter bed: Sewage drips from perforated pipes or overhead sprayer through a stone bed or corrugated plastic sheets. Bacteria on the bed decompose the organic material. 3) Sewage lagoon: Outdoor lagoons expose s ...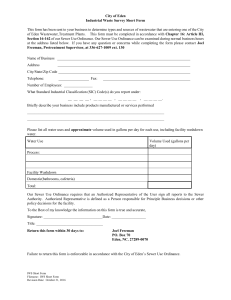 Industrial Waste Survey-Short Form
... Section 16-162 of our Sewer Use Ordinance. Our Sewer Use Ordinance can be examined during normal business hours at the address listed below. If you have any question or concerns while completing the form please contact Joel Freeman, Pretreatment Supervisor, at 336-627-1009 ext. 130 Name of Business ...
Great Stink
The Great Stink was an event in central London in July and August 1858 during which the hot weather exacerbated the smell of untreated human waste and industrial effluent that was present on the banks of the River Thames. The problem had been mounting for some years, with an ageing and inadequate sewer system that emptied directly into the Thames. The miasma from the effluent was thought to transmit contagious diseases, and three outbreaks of cholera prior to the Great Stink were blamed on the ongoing problems with the river.The smell, and people's fears of its possible effects, prompted action from the local and national administrators who had been considering possible solutions for the problem. The authorities accepted a proposal from the civil engineer Joseph Bazalgette to move the effluent eastwards along a series of interconnecting sewers that sloped towards outfalls beyond the metropolitan area. Work on high-, mid- and low-level systems for the new Northern and Southern Outfall Sewers started at the beginning of 1859 and lasted until 1875. To aid the drainage, pumping stations were placed to lift the sewage from lower levels into higher pipes. Two of the more ornate stations, Abbey Mills in Stratford and Crossness on the Erith Marshes, are listed for protection by English Heritage. Bazalgette's plan introduced the three embankments to London in which the sewers ran—the Victoria, Chelsea and Albert Embankments.Bazalgette's work ensured that sewage was no longer dumped onto the shores of the Thames and brought an end to the cholera outbreaks; his actions probably saved more lives than any other Victorian official. His sewer system operates into the 21st century, servicing a city that has grown to over eight million. The historian Peter Ackroyd argues that Bazalgette should be considered a hero of London.