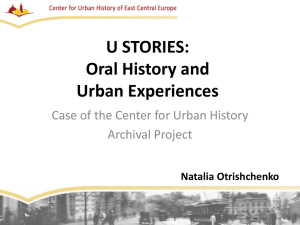 UStories: Oral History and Urban Experiences
... U Stories Project Collections: • experiences connected with place of living (oral history of city districts) • experiences connected with area of activities (professional live) • collection of interviews with participants of EuroMaidan in Kyiv, Lviv, and Kharkiv • Focus groups with history teacher ...
Project Censored
Project Censored is a media research, education, and advocacy initiative started at Sonoma State University in 1976, currently housed at Diablo Valley College in Pleasant Hill, California. Project Censored was founded by Professor Carl Jensen to expose censorship in propaganda and mass media. Jensen named Professor Peter Phillips his successor, who then enlisted professors Mickey Huff and Andy Lee Roth. They have expanded Project Censorship to approximately two dozen university and college campuses across the United States, which is now the current size. Among its journalistic activities is the publication of news stories omitted or significantly under-reported by other media sources.