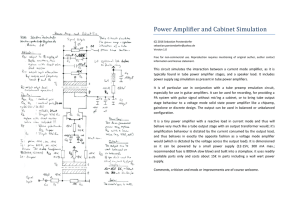 Power Amplifier and Cabinet Simulation
... It is of particular use in conjunction with a tube preamp emulation circuit, especially for use in guitar amplifiers. It can be used for recording, for providing a PA system with guitar signal without mic'ing a cabinet, or to bring tube output stage behaviour to a voltage mode solid state power ampl ...
Tube sound
Tube sound (or valve sound) is the characteristic sound associated with a vacuum tube-based audio amplifier. After introduction of solid state amplifiers, tube sound appeared as the logical complement of transistor sound, which had some negative connotations due to crossover distortion of early transistor amplifiers. The audible significance of tube amplification on audio signals is a subject of continuing debate among audio enthusiasts.Many electric guitar, electric bass, and keyboard players in several genres also prefer the sound of tube instrument amplifiers or preamplifiers.